Applications
Recycling
Evonik enables the transition from a linear to circular plastics value chain with our additive solutions for the wet and dry stages of the mechanical recycling process of plastics.
Defoaming, wetting, deinking, delabeling, demetalizing, dewatering, odor control, compatibilization. Evonik offers a broad range of products for the mechanical recycling process of plastics. The organo-modified siloxanes and dispersants further help to improve the mechanical properties and the processing of the recycled polymer material.
In the wet stage, Evonik's specialty additive solutions range from wetting and defoaming to delabeling, demetallizing, deinking and dewatering, wherein the multifunctional TEGO® Cycle WA111 is the most performant product. Our dewatering aid TEGO® Cycle DW 210 helps to reduce the residual water content of your material just before drying, enabling you to significantly cut energy costs through shorter drying cycles.
For the dry stage, Evonik addresses both recyclers and compounders, providing solutions for odor removal and compatibilization together with highly efficient halogen-free polymer processing aids (PPA).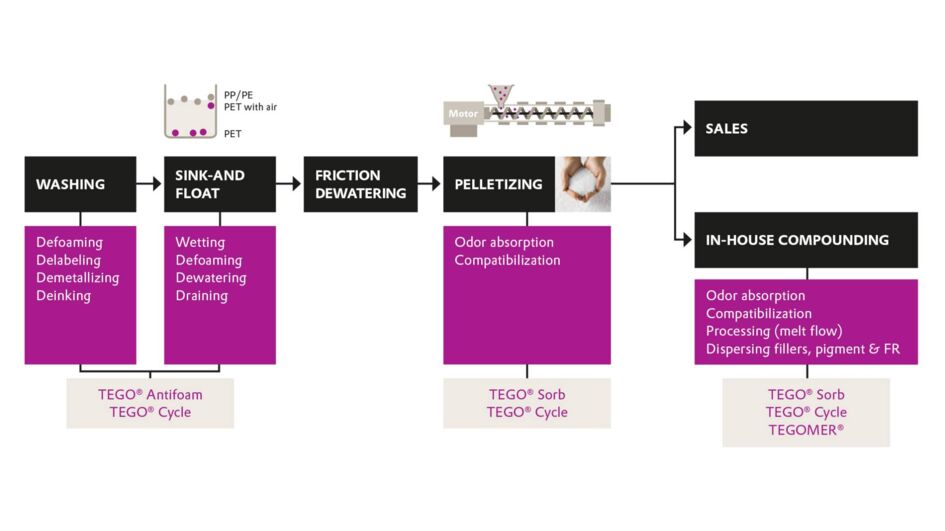 Solutions for a Circular Economy Transforming Waste into Valuable Plastics
Wet Stage
Reliable foam control and excellent long-term stability
Undesired effects associated with silicone-based antifoams (e.g., spotting, fish eyes) are eliminated in most applications
Exceeds customer requirements (e.g. during application of an adhesive)  
Self-emulsifying organic antifoam concentrate
Destroys foam or prevents foam formation
Foam control e.g. in process and wastewater treatment
Improves wetting properties of aqueous dispersions on difficult substrates
Low foaming, solvent and silicone-free
Outperforms conventional wetting agents due to low foaming behavior and fast surface migration
Extraordinary reduction of surface tension in aqueous solutions
Fast coverage of large hydrophobic surfaces
Non-ionic and solvent-free product
Biodegradable dewatering aid
Reduces water content in plastic flakes after centrifugation or filtration
Better use yields ensure lower energy costs for drying
Dry Stage / Compounding
Malodor absorber with a key and locker principle, no covering such as with fragrances
Provides good heat stability in the compounding process
Especially suitable for polyolefins, rubber compounds and recycled materials
Available as PE or PPconcentrate and masterbatch
Multifunctional polyester modified siloxane
Improves polymer processing (e.g. mold fill/release, internal lubrication, rheology of polymer melt)
Improves bulk properties (e.g. impact and tensile strength, reduction of brittleness, hydrophobizing)
Improves surface properties (e.g. scratch and wear resistance, lower surface friction, higher surface gloss)
Used as a processing additive, compatibilizer and for permanent modification of the polymer properties
Reduction of pressure and higher through-put by decrease of viscosity and lubrication
Prevention of melt fracture and shark skin effect
Improved mold release properties
Improves mechanical performance
Increase of color strength
Higher productivity and lower costs for coloration 
Less agglomerates and aggregates
Excellent clarity and reduction of speck formation in films or thin molded parts
Dispersion of single pigments and tailor-made color concentrates
Increase of color strength
Reduced costs through a reduction of pigments
Suppression of re-agglomeration in downstream processes
Recommended Downloads for Recycling
Recommended Products for Recycling